Storing documents and retrieving them is a costly and time-consuming task. With Mango File, each document is stored electronically on your computer and can be accessed easily by simply entering a customer's account number. No more wasting time searching for important contracts or old documents.
Mango File was designed to operate as a virtual filing cabinet, complete with drawers and file folders. Simply scan a document, and save it directly to a customer account. With all of your documents stored electronically on your computer or a server, you make them easily accessible to your entire team.  
Retrieve documents quickly and easily  
Store critical documents together  Improve customer service  
View, fax, print, and send files to your customers  
Eliminate the cost of filing cabinets, folders, and storage rental  
Make your documents easily available to your team  
Edit scanned files and save copies in your customer accounts 
 Save PDF copies of invoices to customer accounts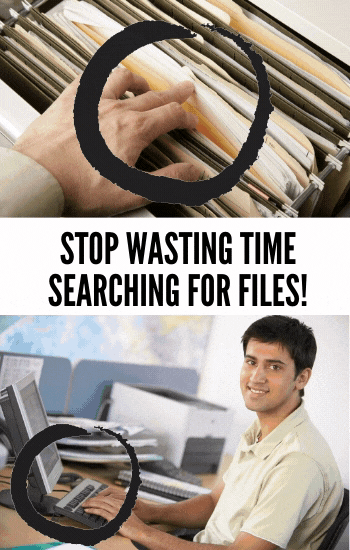 Save Time – Look up handwritten notes, returned checks, lease agreement copies, and any other documents. You can even save purchase orders, invoices, packing slips, and any office forms. By freeing up time spent on filing, customer service personnel can use their time more productively. 
Sort Data by Customer – Mango File can be used as a stand-alone system or easily integrated with RMA to store contracts, leases, or any other documents directly in customer accounts. 
Prevent Lost Documents – Once filed, documents cannot be lost or misplaced. Finding documents within RMA is as easy as pulling up a customer account to see all the documents assigned to that account. 
Improve Customer Communication – Send stored copies of documents directly via email, or even to a fax machine.
Finding documents within RMA is as easy as pulling up a customer account. Once the customer's account has been retrieved, simply click the filing cabinet icon and see the documents assigned to that account. Once you have the appropriate hardware and software, you will need to complete the following three steps to put your new filing system to work: (1) Install the system. (2) Scan documents into the system. (3) Go to Customer Information in RMA and retrieve any stored documents.
The following list is the minimum hardware required to run the Mango® File system:

450 MHz processor or greater (1GHz recommended)
1GB RAM (8GB recommended)
VGA monitor with video card
100GB hard disk drive
CD-ROM or greater (optional)
Keyboard, mouse, and monitor – touchscreen monitor can be useful
Internet connection (for technical support)
Network connection card
A TWAIN or WIA compliant scanner. See User Guide for models that we have tested with the software. Make sure you have received all required items before you set up the system. If you believe that anything is missing, contact Advantage Route Systems or your reseller immediately.
What kind of Scanner do I need?
Any scanner which is Twain compliant.
How long does it take to setup? Do I get support hours with the purchase?
Mango File can be setup in less than 30 minutes.
2 hours of support are included with Mango File (new purchases only).
Where can I view my scanned files?
On the Contact Info tab of the Customer Information (Cabinet icon)
Attached to invoices
Equipment Master File (Cabinet icon)
In your own personal filing drawer folder
Does it work on a Cloud Server?
Yes! Additional setup may be required.
What is the difference between EF2000?
No more ARSDOC.exe – it is all integrated
Ability to scan hand tickets into RMA and see with the original receipt
Faster
Cleaner/Easier to use interface
Written in C#
Better handling of Drawers in Mango File, they now only need to be created in one location!
How much does it cost?
$995 – If you have already purchased EF2000, Mango File is just $500! No annual fees.