Mango Customer Message Centre®
Multi-Channel Customer Communication That's Fast, Secure, and Private.
From marketing to billing, clear customer communication drives your business and helps you maintain better client relationships. With Mango Customer Message Center, you can easily manage multi-channel communication – all from one system. It integrates voice, SMS, fax, and email into a seamless process that allows you to reach out to your customers using the channel that they prefer.
Streamline Your Customer Communication
Simply create a template and choose the best method of delivery – SMS to your customer's cell phone, voice call to a customer's home phone, fax to the business, or email to their inbox. Mango CMC will automatically deliver your message on the scheduled date or at a specific interval. Furthermore, you can reuse messages or design templates for more efficient communication.
Customer Messages Can Include: 
Past-due balances and billing 
Statements
Invoice copies 
Upcoming delivery notifications 
Delayed services 
Marketing promotions 
Text messages that you're arriving soon 
And much more
Features Included with Mango CMC: 
Pre-Delivery Calling – Automatically call customers prior to their delivery to inform them their delivery is delayed. Convenient for when snow closes the roads or a driver calls in sick.
Customized Emails – Customize your emails to create branded statements with logos and links for a more professional look.
Automated Messages – Effortlessly schedule messages to go out at any time of the night or day. You can even send invoices to customers on posting – all automatically.
Mass Generation of Messages – Send bulk messages to a segment of your customers that meet specific criteria. These mass messages are particularly useful for billing follow-up on past-due balances and other accounting messages.
Enjoy a full suite of tools at competitive rates. Leverage our partnerships with communication businesses throughout the world to get "bulk rate" pricing, regardless whether you send 10 messages or 10,000.
 FLEXIBLE, PAY-PER-USE POINT SYSTEM 
Pricing is based on a point system which gives you the flexibility to use whichever communication method you would like. Just sign up for a point plan, and use them until they are gone. 
Choose a point package that matches your needs, and as you send a fax, SMS, or voice message, points are deducted from your available balance. You can manually add more points at any time, or you can sign up to auto-refill when your points get low. The points never expire, and there are no overage fees. 
GET UP AND RUNNING IN NO TIME 
Mango CMC integrates directly into your RMA to streamline your communication. You can sign up and add points packages at any time, directly from your RMA menu. Simply pick your plan and fill out the form.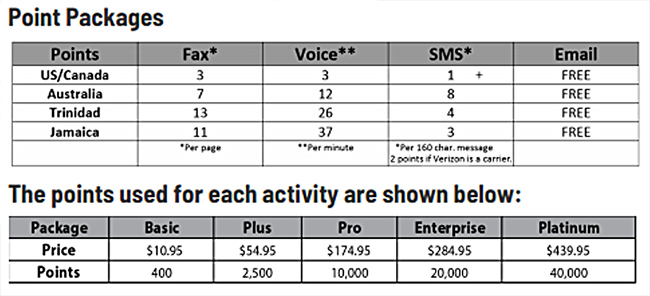 Getting started with Mango CMC could not be easier. There is no complicated set up and you do not need to scour the web for unknown tools. Locate the signup section in Route Manager under the Modules>Customer Message Centre menu and simply pick your plan and fill out the form.
Q: Can a customer reply to an email through Mango CMC?
A: Customers can reply to email from Mango CMC, the reply email is sent to the person who was logged into RMA when the message was sent. In addition, if someone replies to an SMS text message, the reply goes to the email account of the person who sent the message from RMA
Q: Will points be used if they reply to SMS?
A: No, points are not deducted when someone responds to either SMS or Email
Q: Can I send mass emails through CMC?
A: Yes, some email services limit the number of emails that can be sent consecutively, but using CMC, you can send a large batch of emails without any concern that your email provider will block your email or consider that you are spamming.
Q: Do I need to make a voice recording for my voice messages?
A: No, the computer will interpret the message from the template and the customer will hear the message in either a female or male voice depending on the option you selected in Route Manager.
Q: Can I use different languages for the voice message?
A: Yes, you can choose a specific language for your voice message, but the template you use must be typed in the same language. RMA will not translate the English Language to a Spanish message if your template is created in English.
Q. How do I get points to get started?
A. Refer to the 1st section in Chapter 2 "Purchasing Points for Mango CMC" for a detailed walk through on this process.
Q. What hardware do I need?
A. No additional hardware is needed to use Mango CMC. You will need RMA V6.2.1 or later and an internet connection.
Q. Does Mango CMC offer inbound communication as well?
A. Mango CMC offers inbound SMS communication. See Chapter 4, "Customer Replies" for more information. We do not currently offer inbound voice calling functionality, but will in the future.
Q. Are there any monthly fees or contracts with Mango CMC?
A. No, we do not charge any monthly fees to use Mango CMC. Just sign up for a point plan, and use them until they are gone. They never expire. Add more points at any time.
Q. Is Mango CMC available internationally?
A. Not at this time. We will be looking at international compatibility in a future version.
Q. Will we be able to see what messages were unable to send?
A. Yes. You can check the status of any message from within the Status Monitor screen in Route Manager. Additionally, a confirmation email will be sent after the batch has been processed and will indicate the status of each item in the batch.
Q. Will we be charged for messages that failed to send?
A. No. If a message failed to send it will not use any points.
Q. Can I call specific customers in a different language?
A. Not at this time. All customers use the same voice and language settings in Mango CMC Setup.
Q. Can customers reply to an SMS message?
A. Yes, customers can reply to SMS messages. The reply will be emailed to the account that generated the original SMS message to the customer and the reply will use an SMS point from your available Standard Points amount.
Q. Can I prevent customers from replying to SMS messages?
A. No. SMS is a very simple method to communicate with your customers, allowing them to quickly respond to a message letting you know if they need extra product, or may not need a delivery at this time.
Q. Will all faxes include a cover page?
A. Yes, currently all faxes sent from Mango CMC include a cover page.
Q. If I run out of E-Mail points, will I no longer be able to send emails?
A. No. You can still send emails if your email points expire. They will come out of the Standard Points bucket. If both sets of points are empty, then emails will no longer send.
Q. Will my email points roll over when I add more points to my account?
A. No, email points are not carried over when a plan is renewed.
Q. Can a customer reply to an email message?
A. Yes, a customer can reply to emails sent from Mango CMC. However, the response will go directly to the "Reply To" email address, and not handled within Mango CMC (like how SMS messages are), and thus do not use any points. It is important that you have your email address filled in within the List > Employee Setup > Employees screen so that a valid Return Address is used for responses.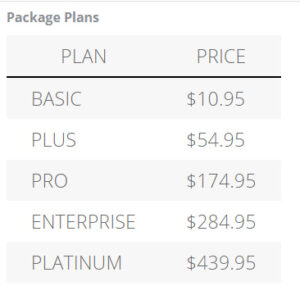 RMA V6.2.1 or later
Mango
Internet connection